Sunday- After flying out of Boston, changing planes in Houston, suffering through layovers that seemed to last forever (mostly because of all my excitment), I finally landed in Bonaire! Pat and Dave Morton picked me up at the airport at about 5am and gave me a
mini tour of the island on our way to Captain Don's Habitat in Kralendijk. I had seen pictures of Captain Don's online or from other interns, but nothing can compare to the real thing. Unlike other dive resorts, Captain Don's believes in "Diving Freedom." While other resorts can inhibit a guest from diving because they say when a guest can/cannot go out, Captain Don's lets you dive as much as you want, when you want! 24-hour access to the incredible reefs below!
The resort overlooks crystal-clear water with a beautiful reef right below the surface and equipped with everything a diver needs from gear rentals and boat dives to rinse stations. I went on two shore dives today and burned through my air so quick. The reef and all of the tropical fish are all so beautiful! This was my first time scuba diving in the Caribbean, so it was super exciting. I was pretty scared seeing my first spotted moray eel, but I couldn't wait to see more of the reefs on my first boat dive tomorrow!
Monday- Today, Pat, Dave, and I went on the 8:30 and 11 o' clock boat dives. The dives were at Mi Dushi and Knife, which are both on Kline, Bonaire. Kline mean "Little Bonaire." It is a small uninhabitated island off the west coast of Bonaire. Everything in Bonaire is just so beautiful, especially under the water's surface. After diving, I took my Nitrox course with Leo Hoogenboom. I learned all about how to dive Nitrox and Leo also showed me how I would analyze my tanks for the dives tomorrow. At night, we stayed at Captain Don's for the "Meet the Captain Party." At the party I got to meet the general manager of Capt'n Don's, Jack Chalk, who not only is sponsoring my accommodations and diving in Bonaire, but he practically runs the whole resort! I was also able to meet his wife Karen and his daughter Joi Jenkins. I would be working with Joi later in the week because she's a STINAPA Marine Park Ranger! I was really interested in all of the work STINAPA was doing with the lionfish problem, so I'm excited to get out in the
field with her. Last but not least, I met Captain Don who signed his book for me entitled Reef Windows: Opening Bonaire's Dive Sites. I have heard so much about the Captain and all of the good things he has done for the island, so i cannot wait to read his book!
Tuesday- Today we went on the morning dives and then at dusk, I was ready for my very first night dive! Diving at night was a little scary, but amazing. As soon as the sun set, thousands of brittle sea stars emerged. They were everywhere and it was so cool to see. I was also proud of myself for finding a spotted moray!
Wednesday- I got up early for breakfast & got my gear ready. On the way to the dive site, we saw dolphins! There were about six of them. It was a great way to start off the morning and they were definitely a good luck charm because our dive was amazing!  We kicked off the day diving at Salt City. This was a really unique dive. It was a drift dive in which we
saw three sites in one (the north side, the salt pier, and the south side).
Diving around the columns of the pier was unbelievable. There was so much life and so much to see! I saw barracuda and a dozen squid all swimming together! The boat met up with us at the other end of the pier so we didn't have to back-track. This was probably my favorite dive so far!
In the morning, I was a guest. In the afternoon, I was an employee! I learned how to fill tanks, and also how to be a dive master. I shadowed dive master Maximi St. Jago (Max) to find out what it takes. The main things to remember are to (1) keep the guests safe and (2) keep the guests happy. It was interesting to dive from another perspective. Throughout the dive you must be aware of yourself, but also the guests. They were definitely all safe, and Max and I kept them happy too! He found a lobster hiding under a coral formation, and I found a spotted drum!
Thursday- I did more diving in the morning today, and worked around Capt'n Don's in the afternoon. I'
m definitely getting used to waking up in paradise everyday! After diving in the morning, I worked with Joi in the afternoon. Today, she was working with a class of students from
the ages of about 7 to 12. The class was learning how to snorkel, and Joi was there from STINAPA to help out. In addition to learning to snorkel, the kids are also educated about the different fish and organisms. Education is very important because many of these kids don't know what is in their own backyard! It was a fun way to spend the afternoon!  In the evening we met up with Jack, who was all dressed up in his Harley atire for his club meeting.Bonaire is truly a Diver's Paradise and I don't want to leave!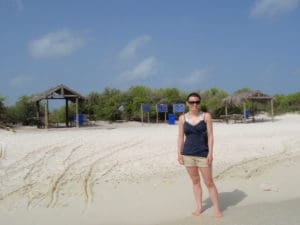 Friday- I worked with Joi again today. We went out to Kline, Bonaire. We were taking the full trash bins off of Kline, replacing them with clean ones, and bringing the trash to the landfill. After that, we went patrolling around part of Bonaire. Since Bonaire's reefs are protected by STINAPA, a person can get in huge trouble if you don't follow the rules. For example, in order to dive in Bonaire, you must purchase a STINAPA tag which can go on your BCD. The tag is good for a year, but if you are caught without one by STINAPA, they can confiscate your gear!
In the afternoon I worked with Leo's wife, Zsuzsanna Pusztai. Zsuzsanna is amazing photographer/videographer who spent her afternoon showing me more about my camera and Gate's housing, and took me out diving with it! I was itching to use it all week and now it was my chance! As I filmed and took photographs of my own, Zsuzsanna was filming me. I had so much fun and I can't wait to keep using my Gate's set-up!
Saturday- It was my last day in diver's paradise. My last dive before flying home was at Country Garden. We saw dolphins on the way to the dive site, so I was sure I had enough good luck to finally see a sea turtle! This was my second favorite dive, mostly because everyone on the morning dive got to watch our dive master, Max, catch a lionfish! A ten minute swim from the boat and about 85 feet down brought us to this strange fan-like creature. At first I didn't realize was I was looking at! It was so cool to watch, and I even filmed the whole thing!
My trip to Bonaire was definitely complete with a lionfish capture. After spending the rest of the day with Pat and Dave and riding around on Jack's Harley, I'm sad to leave Bonaire, but I know I'll return…especially to Captain Don's Habitat!