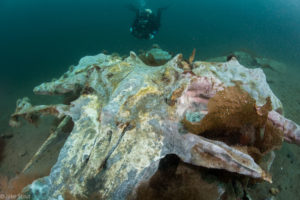 On my last day in Newfoundland we headed up to the interestingly named town of Dildo, to dive on whale skeletons. The skeletons are remnants of old whaling factories. It was the only shore dive that I did in Newfoundland and it is one of the most unique dives. We walked into the water over the ankle breaker rocks and algae, did a short surface swim then dropped down. Right away in 20 FSW we found the first skeleton and more after. There was also a red fish swimming around the skeleton. This dive site is very silty and the slightest movement hitting the bottom will stir up dust, so perfect buoyancy was key. This dive was also the coldest I've ever done at 32 degrees. But in my DUI drysuit I was nice and warm. Unfortunately the water was so cold that my regulator started to free flow and we ended the dive. Even though it was a short dive it was a great dive and I was kind of happy that I went through a free flow and knew what to do and didn't panic.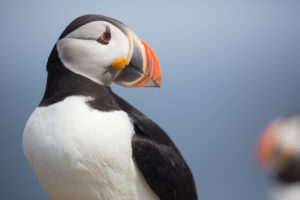 Later that day we drove up the coast to go see the puffins. Puffins are on of those animals like the ocean pout, lumpfish, and lion's mane, that I have always wanted to see. I had such good luck with seeing all the others that I had a good feeling about visiting the puffins. When we arrived and walked over the the small peninsula that they sat on they were not only there and flying around but they were walking around next to people. I couldn't believe it. I started firing off shots everywhere. It was really fantastic to see the cute little puffins that look a little like small sad clowns. Once I got a few good shots I sat back and observed them looking at their patterns and habits. After a few more minutes I started shooting again and got even better shots. I really couldn't have asked for a better last day in Newfoundland.
The 10 days I was in Newfoundland was some of the best times of my life, I got to see so many amazing different marine animals, and got to dive wrecks that are part of history. I want to thank Rick Stanley for hosting me at Ocean Quest Adventures I had an incredible time!