This past week I wrapped up my internship by spending time with the staff of Backscatter in Monterey, California. The week was full of diving in kelp forests and getting up close to animals I just worked on my macro-photography skills with the Olympus TG 4 camera donated by Backscatter. I was amazed by all the forms of life, from the tiniest snail to the most flamboyant decorator crabs!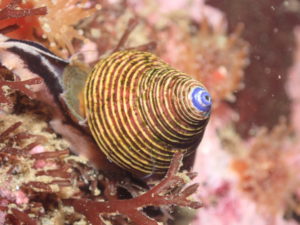 Most of my dives were with Robin, the face of Backscatter in most camera review videos! He was an excellent partner whether he was pointing out an interesting creature, or snapping a quick picture of me in action!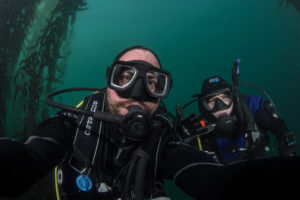 He even took me to the Pacific Grove Hyperbaric Chamber – one of the only chambers in California! I got a quick rundown of how they operate (all on a volunteer basis!) and even learned a bit about how dive medicine has advanced over the years!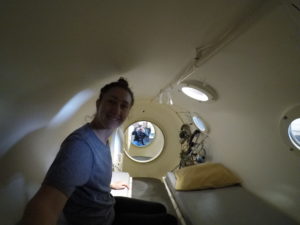 Of course, my post wouldn't be complete without a quick rant about marine debris! While I was surprised at how immaculately clean the beaches were, my heart was saddened to find plenty of fishing line, hooks, and weights caught in the kelp or between rocks near the seawall. But don't you fret, your pal Krista had a decent haul from her dives!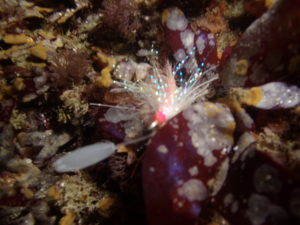 Among all the diving I did this past week, the shop was also preparing for their annual Monterey Shootout competition. Every summer, photographers of all ages and skill levels come from all over the US in hopes to capture great photos and participate in the competition. Along with the madness registration, there was also preparation for seminars (of course, I owe some credit to Jim, who gave me endless tips and tricks to get the perfect shot during one of them). In addition to this, we also had to prep the shop for the Backscatter party after the competition closed. I helped prep food and even entertained Jim's twins as they acted as the paparazzi for the event! Unfortunately, I was unable to stay for the awards ceremony because I had to catch a flight to Alaska where I will be spending my fall semester studying marine mammals! However, I cannot finish this post without mentioning Becca Boring, who truly deserves a huge thank you from me for coordinating my wild week. She always made sure I knew what was going on and treated me to the classic Californian "In N' Out" burger! She also set me up with George Peterson, the director of dive programs of the Monterey Bay Aquarium! I got to explore behind the scenes and learn more about opportunities for young divers starting their careers at aquariums! Lastly, I'd like to thank Berkley White, the owner of Backscatter for providing me with a platform to begin my photography hobby this summer as well as inviting me to join the team for the shootout!