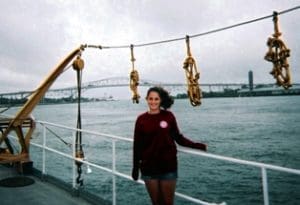 Wow. Today is the first day on the internship with heavy rain. Nearly every dive has been in fine weather with great water conditions (with exception to yesterday!), how much more lucky can I get? I guess when it rains in Michigan, it pours.
It has been pouring almost nonstop since last night's thunderstorms. We didn't get to go out today, which was not totally a bad thing as it was time well spent on the intern video. I am amazed by how long it takes to put a just few frames together, this project is going to take a long time!! Pat and I worked on the project ALL DAY. She had an appointment at 2:30 so we took a break from editing. During this time Jim took me to see the lightship Huron.
A lightship is a floating light house. It is quite practical because it can be used in multiple locations, as Huron was, and can be anchored in the parts of the Lake too deep to build an actual light house. Huron marked the entrance to the Lake Huron cut, and was the last light ship to be used on the Lakes. In the 70's Huron was beached and later it became a museum. It's a neat piece of history to explore. After the lightship, Jim bought some "sea foam," air vacuumed malted candy covered in chocolate, on the way home…it's delicious and only found on the shores of Lake Huron. Spent the rest of the night editing away!