Today I met with Whitney Boyle at Undersea Divers in Beverly to try out my new dive gear for the internship! Pat Morton also met me at the dive shop and we chatted with Whitney about the internship and the new gear. Bobby Boyle and Undersea Divers generously donate new dive gear to the internship each year and I am incredibly grateful to him and everyone at Undersea Divers for being so accommodating and sincere. I had the pleasure of meeting Bobby at the Sea Rovers Clinic in March and I enjoyed speaking with him about the internship!
     Undersea Divers has provided me with a new tank, BCD, regulator, compass, dive computer, wetsuit, hood, gloves, and boots! Whitney was incredibly helpful at the dive shop and she showed me how to properly use and maintain the new gear. The gear that Undersea Divers donates to the internship is pivotal to it's success and would not be possible without their support! Thank you to Bobby, Whitney and everyone at Undersea Divers for your immense generosity and kindness.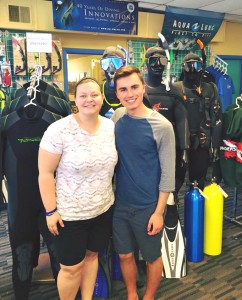 Whitney and I at Undersea Divers!