This past week I joined Vin and Kim Malkoski, and Kim's boyfriend, Sean, for what one could definitely call "an experience". After eight hours of driving, DJ'd by Vin himself (who knew he was a Lady Gaga fan?!) we finally arrived in Bethesda, Maryland to kick off the fourteenth biannual International Submarine Races (ISR) sponsored by the Foundation for Underwater Research and Education (FURE). Originally hosted in open water, the sub races began in 1989 at Riviera Beach in Florida, but have since moved to the David Taylor Model Basin – a ¼ mile long, 22 feet deep tank at the Naval Surface Warfare Center, Carderock Division.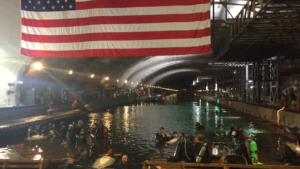 Now at this point, you may be asking 'but Krista, what on earth do submarines have to do with scuba diving?' Here's the catch: these high school and collegiate human powered subs are not dry, in fact, the pilot and pit crew (maybe pool crew?) all operate their submarines using scuba!
We spent the first day in Bethesda recovering from our road trip, which was spent preparing me for an insane week that would inevitably lead to poolside rants among the dive staff. The next day we went to the base and set up for the event. We also dedicated a solid two hours in the tank removing debris from the past two years, so that the submarines would have a clear course. Then, the real work began.
Most of the contestants are fairly new divers, which is where my job came in. Since Vin is responsible for keeping an eye on all divers, ensuring that all diving is safe, and taking care of injuries if needed, my role to be an additional set of eyes for him, along with Kim, Neil, Sean, Roberta (Bobbie), and a few others. We were responsible for making sure each diver submitted their paperwork, ensuring that no divers had any health concerns that would prevent them from safely diving. In addition, Sean and Kim scheduled check out dives with the competitors to ensure they were up to date on their skills. It was great shadowing them as they helped divers review their skills. It reminded me that becoming a divemaster or instructor requires a lot of responsibility, and sometimes patience! Yet during that week, I knew for certain that I wanted to take on that role someday. While it was a lot of fun checking divers in making sure all gear was working before entering the water, I would be lying if I said the week didn't involve lots of yelling at people for various safety reasons. 'NO running, put on a PFD', and lastly (and DEFINITELY Bobbie's favorite) 'You're seriously doing that in front of me?' Overall competitors were responsible, though occasionally we commandeered neglected dive gear, and the energy on base was very positive. The best demonstration of this would have to be how the divers came together to help a Mexican team, from the University of Veracruz, whose submarine was traveling the east coast instead of being delivered to the naval base. The submarine arrived on the last day with only a few hours left to race, all the teams helped assemble their submarine and they were able to race for the 14th international submarine races. I am extremely grateful to the Malkoskis for inviting me on the trip, to Bobbie for being a roommate that was tolerant of my shenanigans, and certainly to Charlotte George ( the liaison between the Navy and ISR), and Jim Corey for announcing the races and keeping the spirit of the races alive.