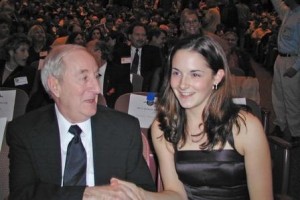 Coffee in hand, I walked into the Copley Plaza Hotel ready for the exciting weekend to begin, although I had no idea how incredible it would turn out to be…
The festivities start in Boston on Friday morning at a seminar called Career Opportunities in Marine Science (COMS) coordiated by Sea Rover George Buckley.  Held the Friday before every annual Clinic, COMS is a program for local high school students to learn about advancements in oceanography.  The program is filled with movies, speeches, and enthusiastic presentations by speakers that often provide students with the opportunity to get involved.  Here I was introduced to Sea Rovers and non-Rovers that I would be working with over the summer, including Terrence Tysall and Amy Giannotti of the Cambrian Foundation in Florida.
At the Pre-Clinic Reception that night, I met a boatload of smart, fun, and obviously hardworking individuals celebrating their passion for the water.  The night was filled with fun introductions and conversations.  I was astounded when I was asked to ring the bells, a tradition the Sea Rovers uphold to remember deceased members.  Seeing names names like Jacques Yves Cousteau etched on the bells, I was incredibly honored.  As if the night was not already exciting enough, the next thing hear is that in a few weeks I would be diving in beautiful warm waters of Bonaire!! It was hard to get some shut-eye that night, but needless to say I feel asleep dreaming of good visibility.
Saturday and Sunday were chock-a-block full of seminars, behind-the-scenes looks at how the Clinic works, and meeting more and more caring people, including corporate sponsors, more Sea Rovers, and the Scalli Family. Imagine being handed a backpack to carry around, later to find a new ScubaPro regulator inside! My head was certainly spinning throughout the whole weekend. Of course, my friends were jealous when I told them that I had dinner seated between Dr. Bob Ballard and Philippe Cousteau, while facing Dr. Eugenie Clark and her daughter, Stan Waterman, Joe MacInnis, and Pat Morton. Wicked cool. The big moment came when I accepted the internship from Patrick Scalli on the stage of John Hancock Hall, through unexpected tears feeling completely embarrassed when he mentioned more than my name!   But embarrassment was well worth being able to be named the first Scalli intern and meeting a family so dedicated, welcoming, and generous in every way.